Pulling into Seattle King Street Station
Submitted by
taoyue
on Mon, 02/28/2011 - 00:22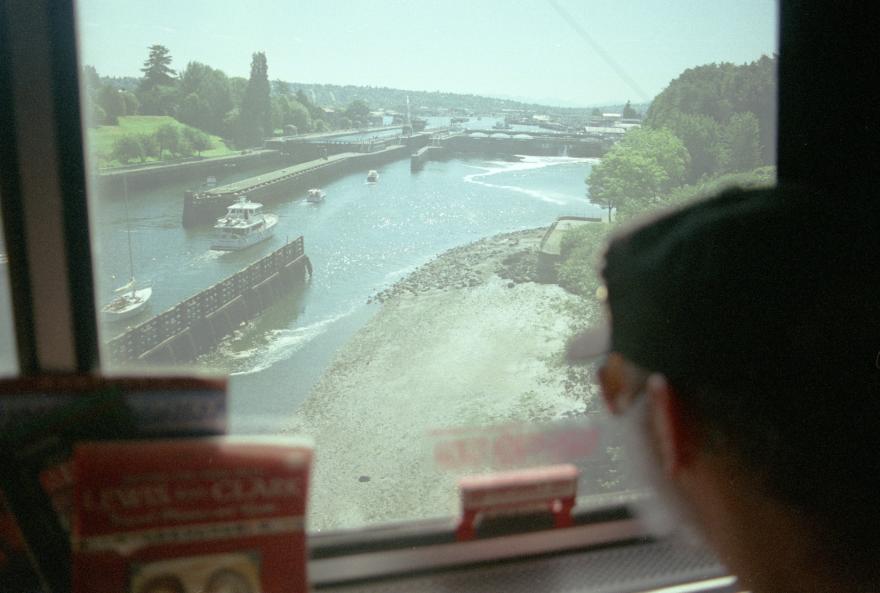 We soon cross the locks of the Lake Washington Ship Canal, entering the city of Seattle. Like Chicago, the railroad runs for a while in a cut below street level. It feels like a terminal destination after the small city stops of North Dakota and Montana, the dense urban landscape peeking out from above the concrete wall of the cut.
As we slow down through the International District, the sleeper attendant suggests itineraries around Seattle and recommends dim sum places. "I live right here in Chinatown," he says. "While everyone else is stuck in traffic, I can walk two blocks and I'm home." Finally, we arrive at Seattle only thirty minutes late, practically on time after a 46-hour journey from Chicago. BNSF is one of the few freight railroads to regularly receive on-time incentive payments from Amtrak, and it's not hard to see why.
King Street Station is clean and serviceable, but sorely overdue for a renovation and a bit gloomy in the dim fluorescent lighting of the drop ceiling. With planned expansions in service for Sounder commuter rail and Amtrak Cascades service between Oregon and British Columbia, King Street Station is projected to become the third busiest train station west of Chicago. But Seattle can't seem to do transit right, and the master plan is proceeding at a snail's pace.