Departing Chicago
Submitted by
taoyue
on Mon, 02/28/2011 - 00:09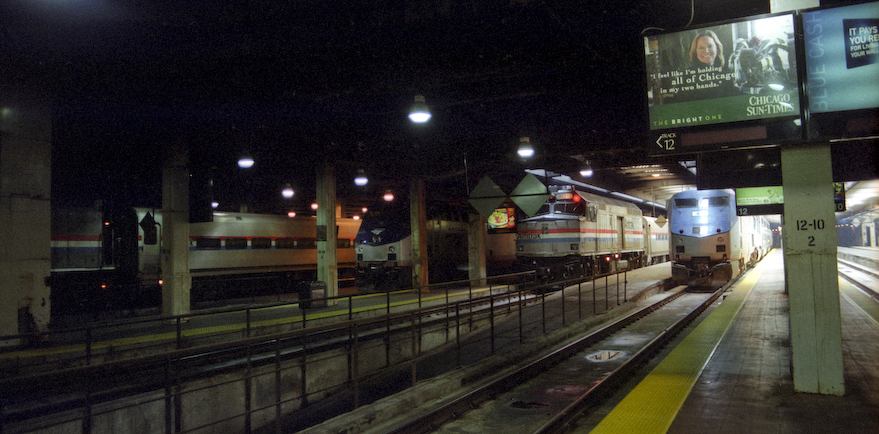 I head back to the temporary sleeper lounge with half an hour to spare before the 2:10p scheduled departure of train number 7, the westbound Empire Builder. Most of the sleeper passengers are elderly or families on vacation, but there is another young Asian twentysomething who stands out of place. He's eating takeout from an impressively upscale restaurant, the gold print and swirling typeface of the packaging contrasting with his very casual sports attire. "I can't finish this tiramisu, want some?" he asks the nearby sixty-year-olds. "It's really delicious."
Boarding time comes, and the sleeper passengers are led in a ragged line to the boarding gate. Extremely crowded, reminiscent of Laguardia airport. All four transcontinentals depart Chicago at around the same time: first the Empire Builder for Seattle/Portland at 2:10p, then the California Zephyr for Emeryville (across from San Francisco) at 2:20p, then the Southwest Chief for Los Angeles at 3:15p, then the Texas Eagle for Los Angeles at 3:20p. Trains for the east coast are bunched around the evening. With most long-distance routes being served by only one daily train each way, bunching the arrivals and departures maximizes the number of same-day connections.
I get on board and settle into my compartment. But the train sits on the tracks. Mechanical difficulties? No, it's waiting for the arrival of the westbound Capitol Limited from DC. We're delayed by a little over an hour, so today's Capitol Limited was "only" delayed by five hours.